1 weeks ago, I watched Avengers2 with boss Leo and manager Elle.
The movie was interesting cause we saw that as 4DX
this is movie ticket.... lol
Before watching the movie, we knew that some scenes were taken at Seoul.
so we anticipate to meet Seoul at the movie. after watching the movie, I was disappointed cause movie didn't show beautiful part of Seoul and there is no interesting action scene.
so if you have a interest about Seoul, I will let you know about "REAL SEOUL".
nightlife
if you like night life like clubbing, Seoul is best in Asia. there are three famous area.
"Hongdae", "Itaewon", "Gangnam"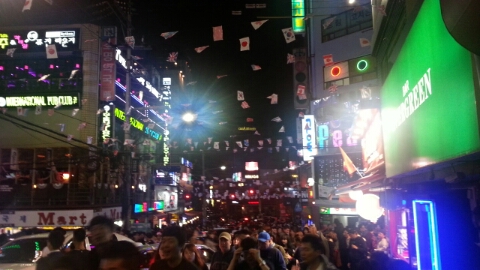 Hongdae Itaewon Gangnam
there have each characteristic.
first if you go to Hongdae at night, it is easy to meet musicians and artist.
and here is flee market on every Saturdays. many young go to club in here.
second, Itaewon is most multicultural and exotic area in Seoul. I really like this place.
final is Gangnam. Have you ever listened "Gangnam style". yeah that is Gangnam.
there is world number 8th club the name is Octagon.
before my friend said that Taiwanese club is best in Asia. but after visiting Taiwanese and Japanese club, I have confidence that Korean club is best and Korean are much crazy at the night.
sightseeing
Sungnyemun
last week, I went to Insadong and Bukchon. it is first time to go there. I was surprised. before I don't know how Seoul is awesome. before I went to Kyoto, I was impressed because of tradition in the city. but after visit Insadong and Bukchon, I thought I have to travel my country and I have a proud about my Korea. If you have a interest about Asian culture, visit Seoul!! near to Bukchon. there is Korean dynasty palace named "Gyeongbok-goong". traditional structure mixed with modern one make you fascinated.
Gwanghwamun
Gwanghwamun
Gyeongbok-gung
yeah, Seoul, the capital of Korea, will give you strong impression. If you visit Seoul, come to Leo guesthouse.
Let's make a good memory with us!